IN-MOTION SPECIALTY SOLUTIONS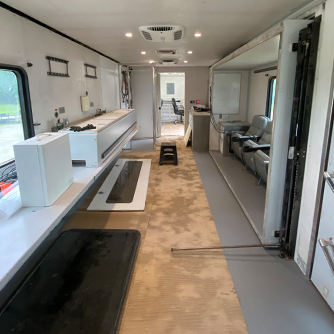 When you partner with WILDCAT Mobile Technologies, we put unparalleled expertise and advanced technologies to work for you on every aspect of the job. The tougher the better. We are inspired when tackling custom and complicated projects. We're engineered to address every last detail and see your project through to its successful completion. We have built a team that is ready to get the job done and committed to exceeding your service expectations.
If you have a need to mobilize your mission or product, let WILDCAT Mobile Technologies help you make it portable with our truck and trailer solutions.
Products and Services
AC and DC Electrical Repair
Border Protection Vehicles
Broadcasting Vehicles
Camera Repair
Chassis Items Repair
Communications Repair
Communications Vehicles
Command & Control Vehicles
Custom Vehicles
Data Links within the Well Site (connectivity)
Datavan Refurbishment
Datavan Trailers
Electrical Components Repair
Electronics Repair
Emergency Response Vehicles
Generator Repair
Hazmat Response Vehicles
Humanitarian Vehicles
HVAC Repair
Interior Finish Items Repair
Law Enforcement Vehicles
Lighting Systems Repair
Marketing Demo Vehicles
Mast Repair
Military Support Vehicles
Observation Vehicles
Satellite Uplink Trailers
Stabilizers and Jacks
Vehicle Refurbishment
Vehicle Upgrades/Repairs
Well Site Phone/Internet Services